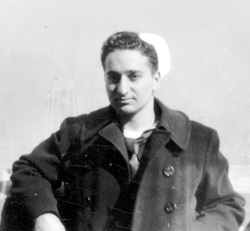 Ramez McCarus
1945
---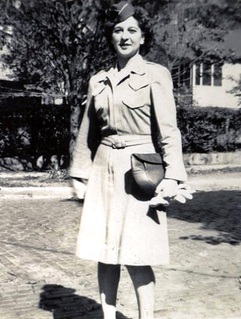 Alice Bassett Rutherdale
Women's Army Corp, 1944,
Signal Corp. Washington, DC


---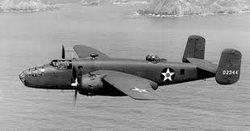 The Charleston Gazette – Sunday, Dec. 12, 1943

Syrians in State Purchase Bomber

A "Buy-A-Bomber" campaign launched by the American Syrian club of Charleston has been successfully concluded with aggregate sales of $188,500 in war bonds, West Virginia War Finance committee headquarters announced Saturday. Sales were substantially over the $175,000 goal originally established as needed for purchase of a B-25 medium bomber, it was said

The plane will carry the name "American-Syrian Lebanese of West Virginia," Fred Koury, Charleston, who was chairman for the drive, said

Successful conclusion of the campaign has been certified to the United States treasury and a certificate of award and photograph of the plane will be presented later too participating clubs and individual, it was said. State war finance officials pointed out that the success of the drive was particularly remarkable in that it was undertaken immediately upon the conclusion of the 3drd War Loan campaign.

War bonds sold in participating communities included Huntington, $23,325; Parkersburg, $31,200; Williamson, $16,425; Beckley, $2,700; Montgomery, $2,000; Eskdale, $2,500; Madison, $10,000; St Albans, $2,000; Welch, $1,075; Mammoth, $1,500; Whitesville, $500; and Charleston, $96,625.

Members of a state-wide committee headed by Chairman Fred Koury which directed the drive were: Charleston: The American Syrian club, S. A. Skaff, Simon Haddad, Paul Zakaib, and Louis Nemar (sponsors of the campaign); American Syrian Red Cross chapter, Mrs. G. H. Corey, and Mrs. George Salamie; American Syrian Charitable society, Mrs. S. A. Skaff, Mrs. Mike Haddad, Mrs. Thelma Safie; St George Ladies Aid society, Mrs. Ed Haddad, Mrs. Mike Aide, and Mrs. Assad Adwash; Shums Il Bir club, Miss Evelyn Skaff, Miss Helen Farris, and Miss Madeline Bsharab; The Phoenician auxiliary, Mrs. Fred Thabet, Mrs. Michael Burdel, and Miss Si Dare; The Phoenicians club, Phillip Haddad and Charles Nasseff; St. George church club, Sabe Howard and Ganin Howard.

Huntington: Louis Salem, Miss Linda George, and Mrs. Emaline Fred Salem, Parkersburg: Louis Thomas, Joe Brock, John Alem, Thomas Solomon, and Mike Abdella. Williamson: K. A. Ammar, Abe Kawaja, Sol M. Steffan, Abraham J. Bassett, and George Cantees and Sons. Beckley: Nick Rahall and Asaff Rahall. Montgomery: William Shadeed and Joe Thabet. Eskdale: A Joseph. Madison: Nathan Haddad and Tom Ellis. St. Albans: N. Corey and Bros. War: Kelly M Ragip. Welch: R. H. Hazemey. Mammoth: Shaheed Bros. Whitesville: M. R. Shibley.

---